Radiation therapy, or radiotherapy, has seen many advances in recent years. There are numerous technologies available now much to the benefit of both radiation oncologists and patients. Each technology and treatment option has their place in the treatment plan catered to your unique condition. One such option is TomoTherapy.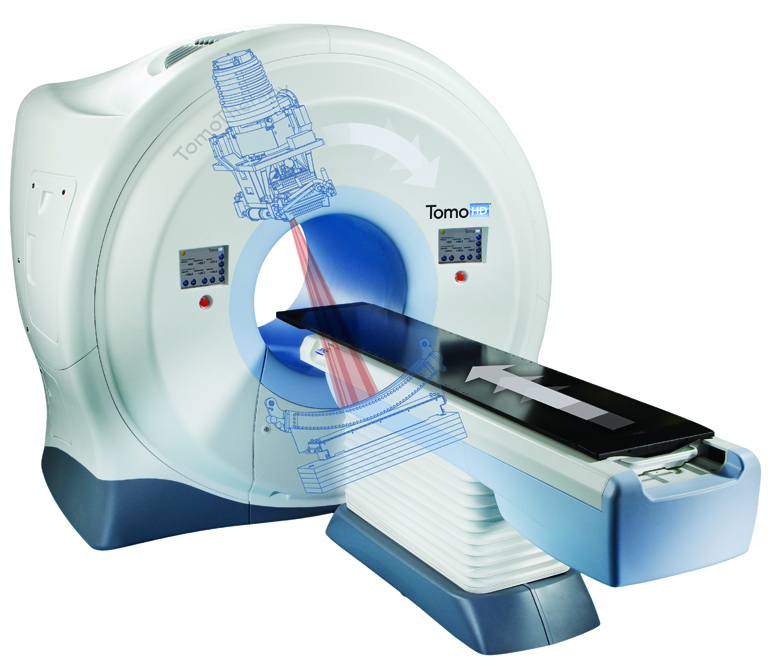 WHAT IS TOMOTHERAPY?
TomoTherapy combines Intensity Modulated Radiation Therapy (IMRT) with computed tomography (CT) in one treatment machine. This advanced technology allows radiation oncologists to create a 3D scan of the tumor, measuring and confirming the location of the tumor.
Once the tumor's exact location has been determined, the radiation beams are then delivered in "slices," treating one layer of the tumor at a time. Each day you receive TomoTherapy treatment, the size, location, and shape are verified before treatment begins, ensuring that the tumor receives the majority of radiation doses, which will minimize exposure to surrounding structures, tissues, and organs.
TomoTherapy is especially noteworthy in treating:
Breast cancer
Colon and Rectal cancers
Lung tumors
Prostate cancers
Head and Neck cancers
And more
EXTERNAL BEAM RADIATION THERAPY AT PROVIDENCE CANCER CENTER
TomoTherapy is just one of many different options for external beam radiation therapy here at Providence Cancer Center. We provide the latest advancements in radiation therapy; in fact, Providence Cancer Center is the only center in Alaska that offers:
With these available technologies, you can rest assured that you will receive the best treatment options available when meeting with our team of highly trained, board-certified cancer doctors. We will work with you and discuss your various options, which will be influenced by your particular cancer diagnosis, your overall health, age, cancer stage, and other factors.
If you have questions about TomoTherapy or other external beam radiation therapy treatment options, such as CyberKnife, please do not hesitate to contact us.